ON THE ROAD WITH AGENT PROVOCATEUR'S SPRING SUMMER 2017 COLLECTION
For the Spring Summer 2017 advertising campaign Agent Provocateur took inspiration from the work of foot fetish photographer Elmer Batters. Elmer brought the taboo into America's living room in the 1970s by creating artful images of women with an emphasis on stockings, legs, and feet.
Shot by Mario Sorrenti, these images show an intimate portrayal of the female form in fluid movement. This season's muse is a youthful model Andreea Diaconu styled by British stylist Jane How in a studio in London, not far from the brand's first Soho store.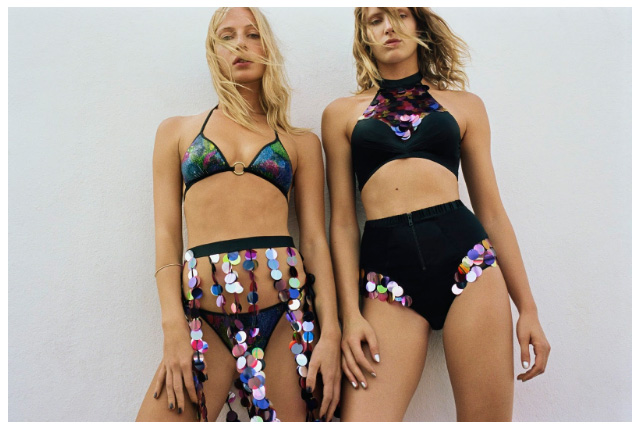 The spirit of Sarah Shotton's SS17 collection takes a new departure with diverse ranges that incorporate a strong fashion energy with vamp and seductive fabrics, and a nod to the 70's colourful, playful accents.
The campaign features the key styles from the collection including Angelica, a rework of best-selling crop top Annoushka which features stretch mesh layered with a bondage lace ribbon, Sofia waistcoat bra in black lace adding a masculine vibe, and an exquisite nude chiffon Cora set trimmed with French hand appliqued black leavers lace. The Silva set brings a bold metallic accent with silver-foiled embroidery leaf print in a high legged big knicker with a crop top bra and this season's favourite Cherry motif is visible on the black tulle Nabina set. The Seraphina body in red will be a Valentine's must have arriving in stores late January.
Sarah's Quote: Elmer is a true inspiration for my design process and it was a dream of mine to be able to realise my vision through our latest advertising campaign with Mario. Andreea was the perfect model to capture the modern interpretation of such a strong confident iconic movement.
INSIDE THE COLLECTION
See three confident and carefree AP girls driving two classic supercars with trunks full of smoking hot lingerie. Hear the sound of tyres on a dirt road, the purr of a Ferrari 328 and the growl of a Lamborghini Countach. These strong and stylish women drive their cars as fast as they live their lives. Think the feminist rebellion of Quentin Tarantino's Death Proof, a dash of the wit and fun of the Cannonball Run, and the cult aesthetic of Vanishing Point.
That's the spirit of Sarah Shotton's SS17 collection for Agent Provocateur, which takes a new departure with a diverse collection that has a strong fashion energy that harmonises with a woman's style and wardrobe rather than existing under and separate from it.
There are two distinct feminine moods represented here. First there is the neon bright and the playful powermesh peeping from under a simple vest or teamed with shorts and a sneaker. This colourful and playful expression of femininity is inspired by the era when Maripol was art directing Fiorucci. This is fun, sassy, easy, cool.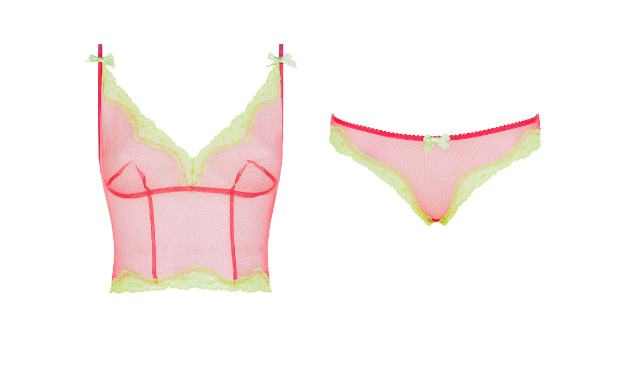 How about a moulded bra and structured silk 50s hot pant dressed in giant sequins? Bare leg, fishnets, 5 denier or 50 denier, this is a look to rock everywhere from the bedroom to the dancefloor; from DC10 to Lovebox.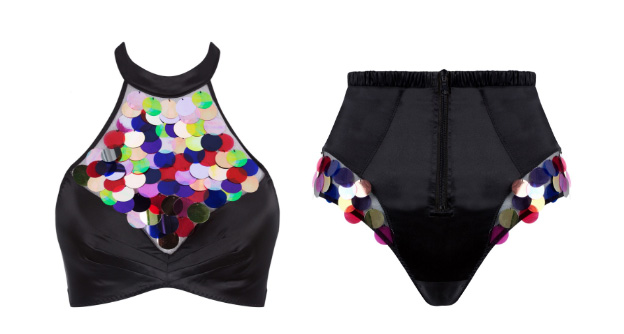 Fabrics are strewn with popping cherries, pretty pears and kissing lips; trims are neon bright. These pieces are pretty as sets, but take on a funkier and more indy edge when they're used for mixing, matching and making very much your own. This mix and match insouciance is a concerted break from lingerie's sometimes too formal diktats.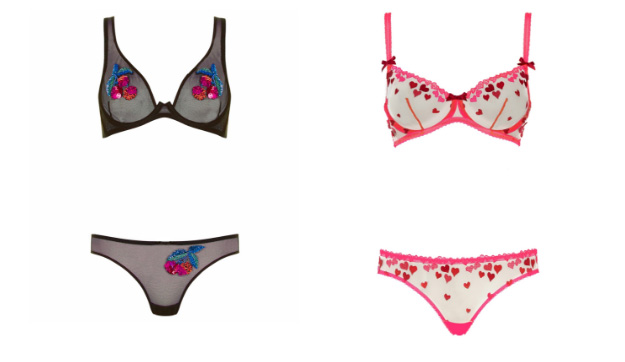 This part of the collection dives into the pleasure of print and surprising and chic colour clashing. A key piece is a mini kimono in navy and lilac silk chiffon with a wide sleeve in a vintage print from the archive of Giorgio Taroni "I love the little hummingbirds with their dickie bows, from a distance it looks like a giant tropical paisley. I return to Mr Giorgio Taroni's archive for fantastic prints again and again."
The second part of the collection ramps up the vamp with pieces like a pristine tux, a liquid lame jumpsuit and underwear sets in sleek, glistening and seductive fabrics. Think Tina Chow and Bianca Jagger and a soundtrack of car chase music from a Michael Mann movie. This woman is deadly sexy, with a naughty glint in her eye.
Whichever route you choose, make sure you hitch a ride with Agent Provocateur this season. It's sure to be wicked and wild.
See the full lingerie collection and campaign at
http://www.agentprovocateur.com/int_en.